NEWS
Watch Justin Timberlake & Amanda Seyfried's Comic-Con 'In Time' Trailer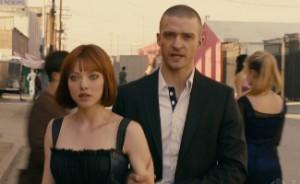 So many trailers today, so little time! And time is of the essence in Justin Timberlake and Amanda Seyfried's new trailer, In Time, that has now hit the web thanks to Comic-Com!
OK! GALLERY: JUSTIN TIMBERLAKE TAKES AMANDA SEYFRIED UNDER HIS WING ON SET
According to What Culture, 20th Century Fox revealed an extended footage trailer of the new sci-fi/action film at Comic-Con.
The film was originally titled Now, but has since been changed to In Time. Justin reminds us a bit of Bradley Cooper in Limitless and we love it!
Article continues below advertisement
In Time is about a universe where time is your currency and your clock stops at 25. The wealthy are immortal and the poor struggle to survive. Justin plays a man from the ghetto who was wrongly accused of killing a wealthy man to steal his time and he runs away with a hostage — Amanda.
What do you think of Justin's newest film?
OK! GALLERY: JUSTIN TIMBERLAKE GET INTO THE ACTION ON NOW SET AFTER INJURY
Watch the trailer, below!