NEWS
JWoww and Samantha Ronson: Shut Up About Gay Marriage, Bristol Palin!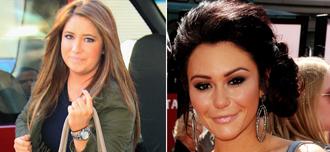 Article continues below advertisement
"While it's great to listen to your kids' ideas, there's also a time when dads simply need to be dads," Palin wrote. "In this case, it would've been helpful for him to explain to Malia and Sasha that while her friends parents are no doubt lovely people, that's not a reason to change thousands of years of thinking about marriage."
Bristol then went on to write that a child flourishes most in a household with a mother and a father, which was surprising considering she's raising her 3-year-old, Tripp, as a single mom. She even managed to drag Glee into it, saying the Obama girls watch too much of the TV show that happens to feature gay characters.
Well, look no farther than Twitter to read the reactions by some of Hollywood's most socially liberal.
OK! NEWS: LEVI JOHHNSTON, BRISTOL PALIN'S BABY DADDY, DOESN'T "FEEL LIKE A DAD"
JWoww put on her poltical cap and tweeted:
"Bristol should keep her uneducated ignorant mouth shut," JWoww tweeted. "If Ur living in the past u wouldn't have a kid w/out marriage #hypocrite. It's 2012!"
Glee star Lea Michele tweeted a simple "amen" succintly stating that if her show is causing progressive social change, all is fine by her.
Meanwhile, Samantha Ronson called her out by tweeting: "'we know that in general kids do better growing up in a mother/father home.' really bristol palin? how's your kid doing?"
Sherri Shepherd accused her of "being young and not using good judgement" and controversial blogger Perez Hilton wrote that Bristol needs to relax with a massage.
Thoughts? Do you think Bristol was in the right or do you agree with her critics?