NEWS
Kal Penn Leaves White House to Film 'Harold & Kumar 3'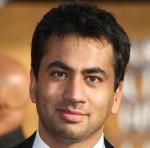 Kal Penn is ditching politics for Hollywood to re-team with John Cho for the third installment of the stoner series, Harold and Kumar.
"I signed a piece of paper. It's Time Warner, I made a commitment and they said they're filming now," Kal explains about quitting his job at the White House, where he works for President Obama.
OK! NEWS: KAL PENN: FROM HOUSE TO WHITE HOUSE
"I thought, 'Come on, guys, can't you give me a few more years?' It's a seven-week shoot."
Article continues below advertisement
So, will Kal return to politics after his stint in Hollywood? "I'm hoping to come back to this. It may not be in the White House," he tells New York Magazine.
OK! VIDEO: BARACK OBAMA GETS COMEDIC WITH JAY LENO
"Maybe four or eight years after that I'll go back to movies. But I don't want to put a definite date on it," says the star of Harold and Kumar Go To White Castle and Harold and Kumar Escape From Guantanomo Bay.