NEWS
OK! Exclusive: Kandi Burruss Talks Why Todd Tucker And Mama Joyce Are In 'A Better Place' And The Secrets Behind Her Kandi's Ski Trip Special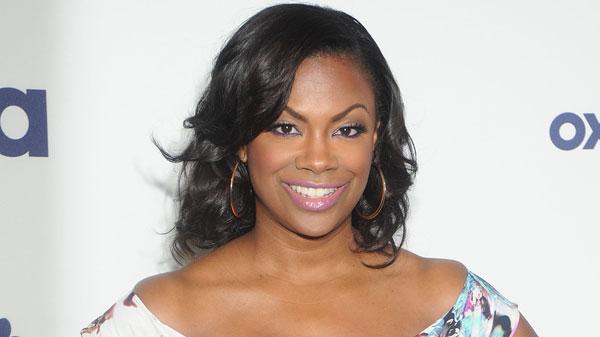 The seventh season of The Real Housewives of Atlanta is officially done, but that by no means the drama is completely over for the show's second longest-running cast member, Kandi Burruss. The singer, songwriter and all-around musical maven is doing realty show double duty this year, once again bringing her hilariously loving family to the small screen with her three-part RHOA spinoff special, Kandi's Ski Trip.
Article continues below advertisement
Burruss admitted that the almost week-long excursion -- which included both her and her husband, Todd Tucker's, families -- had its fair share of happy moments and exhausting downs. However, she said she's proud that she gets to give viewers an honest look at the people she holds most close to her heart.
"I think it's good for people to see more of a blended situation. That was the whole purpose of this trip, trying to get my whole family and Todd and his family on the same page," Burruss said. "When you're first getting married, it takes a second for everybody to get along and everybody to feel like we're really family, so that's what we're working on."
Article continues below advertisement
OK!: Can you share any details about the family's trip and what you think fans are really going to enjoy about the show?
Kandi Burruss: It's definitely going to be full of excitement and twist and turns of us getting along. I think my mother definitely tried to put in effort in the beginning of the trip to try to be on the same page as everybody else. But of course, it never fails that something happens to make things flip and go crazy. It's good to see me and Todd's daughters. They're actually getting on the same page and actually communicating better with each other, so that's a great thing to see, because they've taken a little second to get to know each other. And as far as my mom and Todd, they came a long way as far as their relationship.
Article continues below advertisement
And then the new people that are part of the family because of us being married. Todd's uncle and aunt are there on the trip, his brother, so it's good to also see his side. Everybody always sees my assistant Carmen and they also see Don Juan all the time, but this time you get to see somebody who actually works with Todd and how he handles it.
With cameras or without the cameras, we've always got some crazy drama going on all the time. But our family is very funny too. They're drama and crazy sometimes, but they're funny. Like my Aunt Bertha, she's hilarious. She's a character in herself, so you get to see all of that on this trip.
OK!: I was hoping the Old Lady Gang would be in attendance!
Burruss: Most definitely. I always say that, to me, they are the show really! So if you can see 70-something-year-old women on the back of a snowmobile, it's funny!
OK!: Now you and Todd just celebrated your first year of marriage and let us witness that roller coaster of ups and downs on The Real Housewives of Atlanta. But now that things are seeming to be calming down and stronger than ever, do you think this trip brought you two together as well.
Article continues below advertisement
Burruss: I think by the time we got to the trip, Todd and I pretty much had worked through whatever issues we were having at the beginning of our marriage. So for us, we were getting along great on the trip. But it was all about us trying to help everybody else get on the same page.
OK!: That's a lot of people to try to get on the same page!
Yeah, we had 14 people!
OK!: What was one of the toughest parts of being on the trip with your entire family?
Burruss: For me, the beginning of the trip was a little hard. My aunts were feeling a certain kind of way about the rooms they had, so they were mad about that. They were mad about how long it took us to get to place. Then I found out they had been feeling a certain kind of way since I got married. They felt like I changed, and it was just a whole lot that came up that I didn't even know was going on. I always know my mom has her feelings, but I didn't realize my aunts were feeling a certain kind of way too. So that in turn made Todd feel a certain kind of way because he was like they always try to blame him for everything.
Article continues below advertisement
And then it's no secret that my mom feels like my employees get paid for doing nothing. I don't know why she feels that way, but that's how she feels. And every time she can throw a little remark or something in, she will. So it just was a lot. And they felt like I wasn't taking up for them. You've just got to see it! It was just a thing, after a thing, after a thing! But just like in my everyday life with my family, even when ya'll aren't around us like that, we always get over it.
OK!: You also said during The Real Housewives of Atlanta reunion show that you will never treat and react to your mother and her opinions the same way that you do your RHOA castmates. Can you expand on that?
Burruss: That gets on my nerves when I see in social media people saying stupid stuff like, "Oh! She can say that to this person, but she can't say that to her momma." I'm like, first of all, those people are not my momma. They did not sacrifice for me. They did not feed me. They did not birth me. So, to me, the respect that I'm going to give her is always going to be on a different level from anybody else. I don't get why people even try to do a comparison. There is no comparison.
Article continues below advertisement
OK!: Mama Joyce sometimes gets a bad rap on the show and on social media. But what is one thing that people might be surprised to see revealed about her during Kandi's Ski Trip?
Burruss: Well she started off real good. In the beginning, she put a lot effort to better her relationship with Todd. So I think people will be pleased that at least her and Todd have gotten to a better place. Overall, in person, my mother is super nice. People are shocked at how nice she is because they expect her to be this mean person. My mother is the friendliest person when you meet her in person, but I feel on TV you only get to see her bad moments.
OK!: So we'll get to see her just chilling and enjoying herself this go around?
Burruss: You're gonna get to see a lot of her good moments. But I'm not gonna lie, you're gonna catch another bad one too!
Tune in to the premiere of Kandi's Ski Trip on May 17 at 8 p.m. EST on Bravo.