NEWS
Karlie Kloss Spills On Her First Victoria's Secret Show: 'Very Surreal, Very Cool Experience'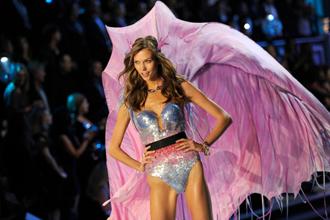 Karlie Kloss made her big debut last night as an angel during the Victoria's Secret Fashion Show. The 19-year-old model even got to close the show in the "Club Pink" section. Karlie spoke to reporters at the afterparty about the whole experience!
Karlie revealed to OK! her favorite part of the show. "I got to dance with Adam Levine, Kanye West," she said. "I did a little shimmy at the end. I have these amazing wings. As an American girl growing up watching the Victoria's Secret show every year with three sisters, this is a dream. These women set the ideal for beauty for American girls across the country, and now, to be one of those girls; the opportunity to be up there and to walk with the women I idolized growing up — it was a very surreal, very cool experience."
Article continues below advertisement
Who was her favorite model growing up? She told OK!, "Oh, my God, Gisele Bündchen, of course! Gisele is the ultimate."
OK! NEWS: VICTORIA'S SECRET FASHION SHOW: WHICH ANGEL OUTSHINES THE REST?
Was there any pressure walking in one of the most famous runway shows in the world? Karlie told reporters, "I don't think so. Actually, to be honest, I have respect for the girls who are by no means old but came before me. All of these iconic women Adriana Lima, Alessandra Ambrosio, Miranda Kerr — these supermodels who had babies.
"Miranda had her son a couple of months ago — she looks amazing. Like, in better shape than I could ever dream of. I don't know, I don't think age has anything to do with it. I decided that if Victoria has a secret, these girls know it. The angels know the secret, so I have to find out what that secret is."
OK! NEWS: VICTORIA'S SECRET ANGEL ADRIANA LIMA REVEALS TO OK!: "I FEEL VERY SECURE"
Karlie also told reporters the key to being an angel! "I think the main thing about being a Victoria's Secret angel is that they look for girls that shine from the inside, and that's something that every one of the angels on that runway has: inner confidence and a joy. You have to be that from the inside, and I think that's why the show is so much fun. Everyone has fun out there."