NEWS
Victoria's Secret Angel Adriana Lima Reveals To OK!: "I Feel Very Secure"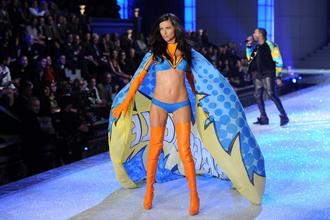 Tonight is the night! The Victoria's Secret Fashion Show is finally here and supermodel Adriana Lima spilled to OK! before the big night.
"I think it's everybody's dream to be backstage" she dished. "Everybody wants to come back and see and look, how we prepare, how we get ready, what's happening, what we talk about, they want to know everything. I love it very much. Sometimes it's very hard to see the girls and work together, so this is the time that we see each other and we get up to date. It's fun. It's fun."
Article continues below advertisement
OK! NEWS: ANGEL TALK WITH ADRIANA LIMA
She also shared that since becoming a mom, she enjoys it even more! "Of course it's different! It's better!"
"I feel as a woman I think becoming a mom first of all changes you completely," she explaiend. "It makes you this new person. Like this. You become more secure about yourself. You feel empowered."
Adriana exclusively told OK!, "After I gave birth, I felt power because to being able to create life inside of me, not a single scientist in the world created life yet. I'm like oh my god I'm a goddess! I feel like, that's how I feel. I feel very secure."
OK! NEWS: VICTORIA'S SECRET FASHION SHOW ANGELS LIP SYNCH "MOVES LIKE JAGGER" IN NEW MUSIC VIDEO
Since the show has such hot musical acts this year including Kanye West and Nicki Minaj, we asked Adriana who she was most excited to see. "I'm excited for Maroon 5 and Kanye for sure. Yes, especially I remember a few years ago I remember he was meant to do the fashion show in LA, we were there and a terrible thing happened and he wasn't able to be there. But I'm happy this year he's back and I can't wait. I love Maroon 5. When I heard I was so happy. I love the song 'Moves Like Jagger.' I love that song! Oh my god, it's so fun."
Catch Adriana and all the other Victoria's Secret beauties tonight at 10 p.m. ET on CBS.