NEWS
Kat Von D Explodes on 'Good Day L.A.' Set Over Jesse James 'LA Ink' Clip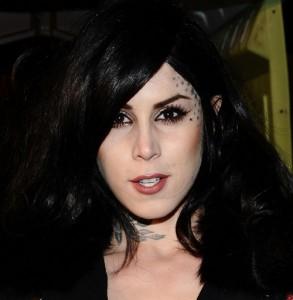 Kat Von D is trying to promote the new season of her TLC show LA Ink, not her breakup with Jesse James. The tattoo maven made that very clear this morning when she stormed off the set of Fox 11's Good Day L.A. after the Southern California news program showed a clip of Ink centered around her and Jesse.
Kat was so angry that the program showed an introductory clip of her and Jesse from LA Ink that she made a swift departure from the set, skipping out on her scheduled segment, The Los Angeles Times reports.
Article continues below advertisement
What clip did they show?
A clip from the premiere of the hit TLC reality show which airs tomorrow night shows Kat surprising Jesse in her shop with a new tattoo she got on her left side of his childhood photo.
Kat's sudden exit left left the show's anchors and producers shocked.
Allegedly producers maintained that Kat's only request for the scheduled interview were to avoid questions about Jesse's ex-wife, Sandra Bullock.
Anchor and weather reporter Jillian Barberie was pretty heated over Kat's angry departure, explaining on-air that Kat should have addressed the issue of the clip the show sent with TLC beforehand.
"You live a public life and were promoting your reality show, which includes him," Jillian said on- air this morning. "We sympathize that you broke up, but of course we were going to ask about it. That's the clip that you sent us."
Article continues below advertisement
Kat also voiced her opinion about what happened.
"Dear GoodDayLA, thanks for the waste of a perfectly good morning. Lack of compassion n respect for eachother never fails to dissapoint me." she Tweeted after the incident.
Kat was the first to announce her split from Jesse, writing on Twitter: "I am no longer w Jesse, and out of respect for him, his family and myself, thats all the info I'd like to share. Thanks for respecting that."
After a whirlwind romance, the couple was engaged in January. It was Jesse's first relationship since his split with Sandra Bullock.