NEWS
Kat Von D Reflects on 'L.A. Ink' During Series Finale: "I've Definitely Grown Up A Lot"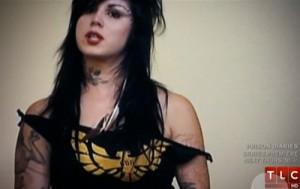 Kat Von D said goodbye to her hit TLC reality show LA Ink last night, after four seasons on the air. The tattoo maven reflected on the show and how her career has evolved.
"I've definitely grown up a lot," she shared on last night's finale, explaining that she dropped out of high school to pursue her passion to become a tattoo artist. "It was my calling."
Article continues below advertisement
She continued: "Looking back at the first season of LA Ink, we had no idea it would even get to this level. I'm flattered that people are even still interested," she said.
So what's next for Kat? Don't worry, she won't be giving up tattooing.
"Aside from my family, it's the one thing that has stayed consistent."
Last month, the network announced that season four of LA Ink would be the last.
Kat made sure she clarified on Twitter why the show was ending.
"I love how me deciding to not continue doing LA Ink, turns into being 'cancelled.' Thanks @TLC. Regardless of everything I remain grateful." Kat Tweeted, followed by, "Please standby for a more in depth, more honest statement regarding LA Ink."
After hitting a rough patch, Kat and Jesse James are back together, and wedding bells are reportedly in the near future.