NEWS
Kate Gosselin Working on Getting a New Reality Show: "My Kids Honestly Miss Filming"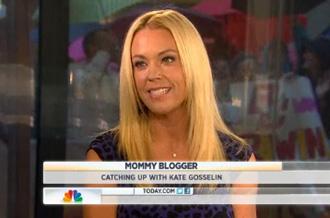 She's back! Kate Gosselin stopped by The Today Show this morning to chat with Ann Curry about her new career as a coupon blogger, but the mom of eight couldn't help but bring up how much she and the kids miss shooting their canceled TLC reality show, Kate Plus Eight.
"They really, honestly miss filming," Kate said about her kids — Cara and Mady, 11, and Leah, Hannah, Alexis, Joel, Aaden and Collin, 8. "They recently have been saying, 'When are we going to go here or there? We miss the crew.' So, with our TLC contract now over, we're hoping to move forward and do more fun projects."
Article continues below advertisement
OK! GALLERY: KATE GOSSELIN AND THE KIDS GO DOWN UNDER!
"Fans are begging, 'They've grown up. They've turned eight what are they doing?'" Kate added. "So we're hoping to put that out there for them."
Someone who might not be too fond of that idea is the kids' dad, Jon Gosselin, who was really adamant about getting his children off the air. But, Kate insists that she and Jon are on really good terms and have been working together to give their kids a normal, stable life.
OK! NEWS: KATE GOSSELIN HAS A "PEACEFUL" RELATIONSHIP WITH JON & A LONELY LOVE LIFE
"I can honestly say it's more peaceful than it's ever been," Kate explained of her relationship with Jon. "He's been really positive and more available and it's just less stressful. I feel like he's working with me, and the kids notice it — and that's good because I've always wanted peace for them."
"We're doing awesome," she said. "The kids are doing great in school. Everyone is excelling at school, across the board. It's amazing."
Do you think Kate and the kids should do another reality show?