NEWS
Kate Gosselin's 'Kate Plus 8' Reality Show Not Renewed By TLC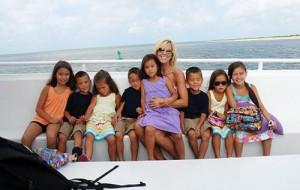 The rumors were right. Kate Gosselin and her eight kids' reality TV run will be coming to an end.
OK! GALLERY: KATE GOSSELIN IS ALL SMILES IN NYC ON HER WAY TO THE TODAY SHOW
Unfortunately, Gosselin fans won't be watching the kids attend high school.
TLC has decided not to renew their reality show.
"TLC has decided not to renew another season of Kate Plus 8," a spokesperson for the show said in a statement. "By the end of this season, Kate Plus 8 will have hit the 150-episode mark (including Jon & Kate Plus 8), an exceptional milestone. TLC hopes to check in with Kate and the family periodically with specials in the future."
Article continues below advertisement
Kate Plus 8 was spun off from Jon & Kate Plus 8, Kate's original reality show with her former husband Jon Gosselin. After their divorce, Kate and TLC attempted to continue the show following the couple's eight children, but the ratings reportedly decreased.
OK! VIDEO: KATE GOSSELIN TELLS TODAY THE KIDS ARE "BEGGING ME TO GET MARRIED AGAIN"
The final episode of Kate Plus 8 will air on Sept. 12.
Are you happy or sad to see this reality show come to an end?