NEWS
Kate Gosselin Rocks an Itsy Bitsy White Bikini Down Under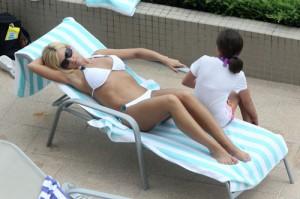 Kate Gosselin is spending the first week of 2011 relaxing Down Under. The famous reality mom and her brood of eight spent some time relaxing by their hotel pool in Brisbane, Australia Wednesday as the family bodyguard Steve Neild kept a watch on the family from a balcony above. Kate flaunted her toned bikini body wearing a white two-piece with blue embellishments.
Looks like all of Kate's long runs around her neighborhood in Pennsylvania are really paying off!
Article continues below advertisement
The busy mom needed some R&R after a very busy (an tumultuous) year in 2010 — from launching her independent reality show (sans ex-hubby Jon Gosselin) to her stint on Dancing With the Stars to a "relationship" with bodyguard Steve and dealing with her tots' behavioral problems.
Jon seems to have been under the radar for the past couple of months. Wonder if he is turning over a new leaf in 2011?