NEWS
Kate Gosselin Takes Her Sextuplets on a Field Trip to the Mall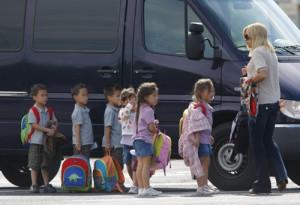 Kate Gosselin took the sextuplets on a little field trip yesterday after school. The busy mom and her pack made a stop at the Birkshire Mall in Reading, Pa. Twins Cara and Maddie were noticeably absent from the Gosselin brood. Maybe they were with dad Jon Gosselin?
OK! NEWS: KATE GOSSELIN AND TONY DOVOLANI PLAN PLAYDATE
Kate has really been focusing on her kids now that her jaunt on Dancing With the Stars has come to an end.
Article continues below advertisement
It even looks like the nasty custody battle between her and Jon has simmered down.
She is still keeping in touch with dance partner Tony Dovolani.
"We talk a couple of times a week," Tony told E! Online recently. "Kate misses her Dancing With the Stars family. In fact, she misses dancing altogether. That, to me, is music my ears."
And the playdate for their kids is still on!
"Our kids will probably have some playdates soon," says Tony. "I absolutely think that would be fun. People love talking about kids, so we always have a good conversation that way."