NEWS
Kate Gosselin Tells All (Again) on The View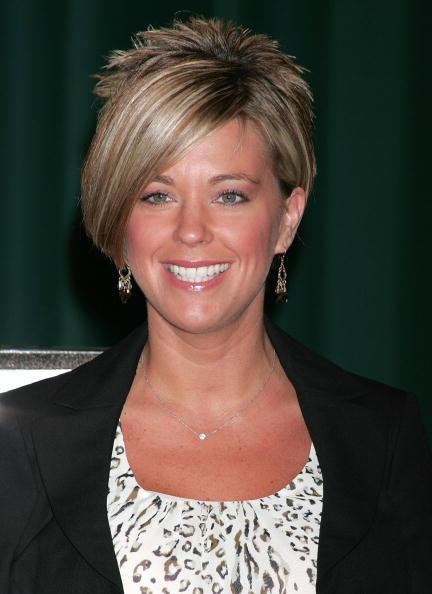 Kate Gosselin proved once again to be a "high road taker" when she made a repeat appearance on The View this morning. The mother of eight handled difficult questions covering everything from Jon Gosselin's public antics to recent comparisons of Kate and Octo-Mom and finally to how her children are handling her changing marital status.
Once again, Kate maintained that her priorities are the well-being of her children. When it was noted that she was still wearing her wedding ring, Kate gave her signature answer: "It's for the kids."
Article continues below advertisement
"I said, 'Mommy is not going to wear the ring much longer,' and they said, 'Why?' And I said, 'Mommy and Daddy are not going to be married much longer.' And they said, 'You're not?' And I said 'No...' And Alexis asked if Daddy would still be our Daddy? And I said 'Forever,' and they said 'Okay,' and nobody said anything. So I wanted to make it all better so I said I would wear another ring and they said, 'Yes, mommy.' "
Whew!
While Jon's recent display of debatable behavior with Hailey Glassman has led to public outcry and Kate's previously mentioned breakdown, she explains that their TLC reality show, Jon and Kate Plus 8, was not the sole reason for their marriage's end.
"I thought back and all our issues were there and the world saw it," she explains.
Responding to the criticism of having so many kids and a harsh comparison to Octo Mom, Kate says that all she had wanted was an addition to her twin girls, and what happened next was out of her control.
"It was never my intention to have multiples," she confessed. "It's a risk of fertility treatments. I was taking what they were giving me."
Kate also made it clear that she would be continuing to handle herself demurely and refused to backlash against Jon's hurtful comments of "despising" Kate.
"Of course it bothers me. Am I going to return the favor? Absolutely not."