NEWS
Kate Gosselin's Brother Claims Children Suffered From Reality Show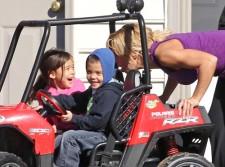 The drama keeps coming for Kate Gosselin, and it's not ex-husband Jon Gosselin stirring things up. Kate's brother and sister-in-law testified in a Philadelphia hearing today, claiming that the Gosselin children suffered "psychological damage" while filming Jon & Kate Plus 8, TMZ reports.
Kevin Kreider and his wife Jodi testified today at a Philadelphia hearing on child labor laws and reality television shows, according to TMZ, and Kevin said the Gosselin brood had no privacy during the taping, as their potty training was captured on video.
Article continues below advertisement
OK! VIDEO: KATE GOSSELIN DISMISSES JON'S "ABSENTEE MOM" CLAIMS
Kate's brother also added the camera crews and large lighting equipment created an unsafe environment for the children who he believes suffered from psychological damage as a result of the show.
TLC dismissed the claims as "either completely inaccurate or a distorted representation for maximum attention," TMZ reports.