NEWS
VIDEO: Kate Gosselin Dimisses Jon's "Absentee Mom" Claims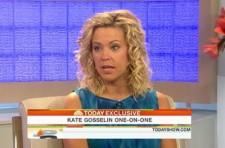 A very emotional Kate Gosselin opened up to Meredith Vieira on the Today Show about the newest legal drama to hit her family, her new book I Just Want You To Know and Dancing With the Stars.
Kate's ex Jon Gosselin has recently filed legal documents claiming Kate is an absentee mom who is more interested in fame and her role on DWTS than she is in raising the kids.
OK! NEWS: DWTS — KATE GOSSELIN & TONI DOVOLANI HAVE A "BREAKTHROUGH"
Article continues below advertisement
The mother of eight dismisses Jon's claims explaining this morning that she is doing what any working, single mom has to do to provide for her family.
"I'm a working mom, cameras are on me, so people catch me traveling and working," Kate told Meredith. "I got to work harder now than ever because I am a single mom. But in my heart I'm always in my kitchen baking and cooking for my kids. And I'll always be there. It's a struggle to be here. To be anywhere. The emotion you see is because I would rather be at home with them."
Kate said the idea for her new book I Just Want You To Know came to her one day while driving.
"Through everything we have been through, I just wanted them really to know how much I love them," she said about her book, which addresses her eight children in a series of letters. "How everything I do is for them... advice for now, advice for the future. It's kind of like a legacy."
Article continues below advertisement
Kate told the publishers to leave it her book untouched, unedited.
She said her kids remain a strong bunch and are not taking anything negative from the situation between her and Jon.
"They're the eight most fabulous kids on the planet," Kate said. "They still things like, 'Oh I wish mommy and daddy could be together,' but they still have their same innocent love for each of us."