NEWS
Kate Major Claims Fiancé Michael Lohan Attacked Her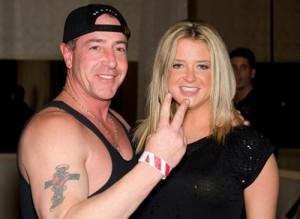 While Michael Lohan is focused on his incarcerated daughter Lindsay Lohan, his fiancée is busy turning him in to the feds. Kate Major allegedly filed a report claiming Michael physically attacked her during an altercation.
According to TMZ, Kate issued a report this week with the Southampton Town Police claiming, on Monday, around 2 p.m. before Michael flew to L.A. for Lindsay's hearing, they began to have a heated argument and Michael allegedly pushed her over a chair causing injury to her shoulder.
Article continues below advertisement
As if the shove wasn't enough, sources tell TMZ that Kate claims while she was down on the ground, Michael kicked her in the face.
OK! NEWS: MICHAEL LOHAN ENGAGED TO KATE MAJOR
As a result, Kate went to the hospital and has pictures of her injuries.
Michael told TMZ he got in an argument with Kate on Monday over their upcoming TV show, but he that he never laid a hand on her and she's making it up.
The Lohan patriarch, who knows how to work the media, also spoke with Radar Online, and explained the cause of the altercation was over...Tiger Woods mistresses?
Rachel Uchitel and Joslyn James have reportedly signed on to star in Michael's upcoming reality show Celebrity House, according to Radar Online.
Article continues below advertisement
OK! EXCLUSIVE: MICHAEL LOHAN DISHES ON LILO'S LAWYER QUITTING
"We had a disagreement because of some of the people coming into the house for our upcoming television show," Michael told Radar Online.
Michael sure knows how to put himself right in the middle of all the hottest scandals — Lindsay's jail sentence, Tiger Woods and now a reported domestic violence case reminiscent of Mel Gibson's latest turmoil.