NEWS
Kate Middleton and Prince William Prepare for Release of Topless Photos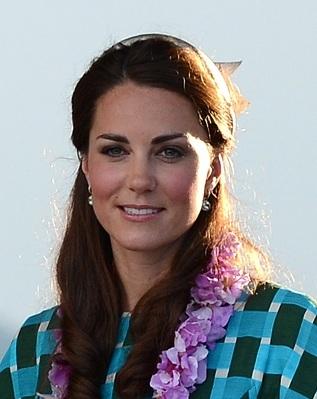 Prince William and Duchess Kate are in the middle of a legal nightmare, but you'd never know it! The Duke and Duchess of Cambridge visited the Solomon Islands Sunday as they continue the Jubilee tour, and were, by all accounts, pleasant and full of smiles.
Kate was gifted a colorful strapless dress by the government, according to the Daily Mail. "She tried it on, loved it, and she is wearing it," a spokesperson for the Duchess said. Kate chose it in favor of a designer gown she had planned to wear. We love that she showed respect to the Soloman Islands this way!
Article continues below advertisement
OK! GALLERY: KATE MIDDLETON GLITTERS IN GOLD DRESS AT STATE DINNER IN MALAYSIA
On Monday, Italian magazine Chi will feature a 26-page spread featuring the Duchess' topless photos, despite the legal action threatened by the Royal Family. The photos show Kate sunbathing topless in a family friend's yard, where the royals maintain that she should have had full privacy, and a photographer could not have taken the shots without breaking the law.
"Unless they've driven a motorway through the 648 acres, you'll find that the property where Kate was is at the center of that location and it's surrounded by hills, so I'm certainly advised that without trespassing — that is without committing an offense — you cannot take the photographs that were taken of the Duchess, solicitor Mark Stephens, who specializes in intellectual property rights and human rights, told BBC News.
Article continues below advertisement
OK! GALLERY: KATE MIDDLETON AND PRINCE WILLIAM VISIT SINGAPORE FOR QUEEN'S DIAMOND JUBILEE TOUR
He continued, "There is no doubt here that the princess had an absolute expectation of privacy and that these photographs should never have been taken, could not have been taken without breaking the law, and should never have been published."
St. James Palace announced Sunday that it would seek an injunction in France against the publisher of both Chi and Closer magazines, Mondadori. Lawyers for William and Kate are headed to court Monday after filing a breach of privacy lawsuit against the publisher.