NEWS
Kate Middleton Flashes Her Ring While Shopping Around Kings Road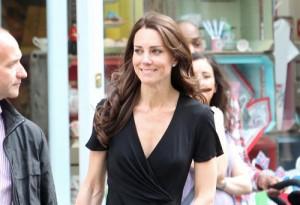 With just nine days until the biggest day of her life, Kate Middleton strolled Kings Road in London earlier today shopping away like any ordinary 29-year-old girl would. The one thing Kate has that any other girl does not is an 18-carat sapphire and diamond engagement ring from Prince William. As the world watches, Kate will wed Prince William at Westminster Abbey on April 29.
Article continues below advertisement
According to CBS News, Kate's parents met Queen Elizabeth earlier today for lunch at Windsor Castle before the big day arrives.
U.K.'s Press Association confirmed the lunch through a Buckingham Palace spokeswoman statement saying, "The Queen and the Duke of Edinburgh hosted Mr and Mrs Michael Middleton at a private lunch at Windsor Castle today."