NEWS
Kate Middleton Weighs Less Than 90 Pounds!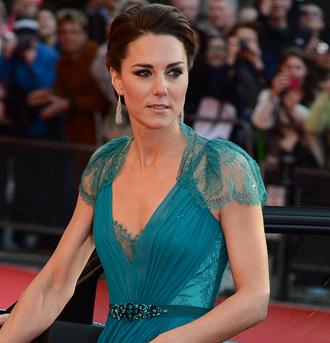 Thrilled by the compliments she's received and the designers who have volunteered to dress her, Duchess Kate continues to diet, even though she has lost several dress sizes since she started dieting for her wedding. Yet, as the five-foot-ten royal's weight has dipped below 90 pounds, those around her are concerned.
OK! NEWS: PRINCE WILLIAM IS "KEEN TO HAVE A FAMILY" WITH KATE MIDDLETON
"She and Prince William have made no secret that they want to have a baby — they're hoping to make an announcement this year, while the queen is celebrating her diamond jubilee," says the insider of the duchess and her husband, 29.
Article continues below advertisement
"Her doctors have advised her to gain weight to improve her chances of conceiving. Wills has been encouraging her to eat more, saying how he prefers her with a little meat on her bones!"
But Kate, 30, who reportedly weighed about 100 pounds at her wedding, is happy to have dropped more weight — more than 10 pounds according to nutrition expert Bonnie Taub-Diz, MA, RD, CDN of betterdieting.net, who does not work with the duchess.
OK! GALLERY: KATE MIDDLETON WOWS IN A CREAM GOWN WITH A SEXY SLIT AT A PRIVATE DINNER IN LONDON
"Like any woman, she wanted to lose weight for her wedding dress. The trouble is she's just kept on dieting," says the royal insider.
"These days her diet seems to be nibbling on healthy snacks all day," says a friend. "She'll eat a carrot or fruit and often skip meals altogether. When she does sit down with a plate of food, it's normally salad, or pasta or sushi — and the portions are rarely big."
FOR MORE ON KATE MIDDLETON AND HER DIETING, PICK UP THE NEW ISSUE OF OK!, ON SALE NOW!