NEWS
Kate Middleton's Wedding Dress: What Designers Are Saying!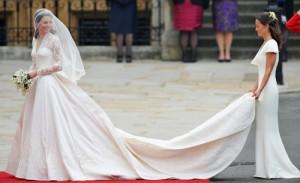 The world was wondering what Kate Middleton's wedding dress would look like — especially fashion designers. Kate ended up wearing a dress by Sarah Burton for Alexander McQueen. So, what are other designers saying about Kate's gown?
OK! NEWS: ROYAL WEDDING RECAP — PRINCE WILLIAM & KATE MIDDLETON SAY "I WILL"
Designers are speaking out and sharing their professional thoughts on Kate's dress. Do you agree?
Article continues below advertisement
"She is very elegant," Karl Lagerfeld said (via WWD). "The dress is classic and goes very well in the Westminster decor. It almost reminds me of (Queen) Elizabeth's wedding, the royal weddings in the '50s. The proportion of the train is good. The lace is very pretty. I like the veil a lot."
Christian Lacroix said, "I like the dress very much, simpler than expected: A combination just in between 1956 Grace Kelly and 1947 Queen Elizabeth. I love the modest veil with the queen mother's '30s scroll tiara and balanced volume of the whole gown."
"She's radiant; she never was so beautiful," Christian added. "And Prince William's red Irish Guard uniform is gorgeous."
OK! VIDEO: WATCH KATE MIDDLETON & PRINCE WILLIAM KISS ON THE BALCONY OF BUCKINGHAM PALACE!
But some designers were bold enough to add in a few negative comments with the positive ones!
"The dress is very simple and very nice," Hubert de Givenchy said. "The veil is a little flat, but because she has such a lovely face, she can afford to wear it this way. She is very pretty."
And Hubert thought that Kate choosing a dress from McQueen was "a lovely thought, a nice tribute."
"It was a very elegant dress, subtly refined and discreet, in keeping with her style," Elie Saab said. "I would have liked it even more with a little extra volume and a longer train."