NEWS
'Kate Plus 8' Gets a Premiere Date!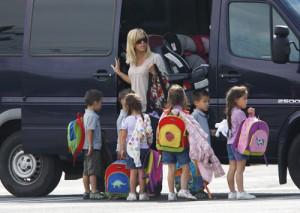 Kate Gosselin is taking a very short break from the world of reality TV. Fresh off the dance floor, the famous reality mom's new series Kate Plus 8 finally has been slated with a premiere date.
The sextuplets, twins and Kate return TLC on Sunday June 6 an 9 p.m., JustJared reports.
The show will feature Kate and her eight kids in a series of specials, documenting the brood on new adventures, beginning with "an exciting surprise trip to celebrate the sextuplets' 6th birthday," according to JustJared.
Article continues below advertisement
The sextuplets birthday was yesterday, and Kate threw them a special pool party at their Pennsylvania home!
Kate will also take the lead role in another TLC reality show, Twist of Kate, which is slated to debut later this year.
Are you interested in Kate's new adventures? Or have you had enough?