NEWS
Katherine Heigl Blogs About Her Sex Life: "No Desire" to Cheat on Husband Josh Kelley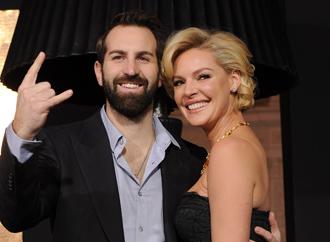 Katherine Heigl has posted her newest blog post and tackles the topic of marriage and how she makes it work with Josh Kelley. Katherine and Josh have been married for four years and have a three-year-old adoptive daughter Naleigh. After being asked during an interview how she makes her marriage work, Katherine decided to really think it over and give a long answer her newest blog on iVillage.
OK! GALLERY: KATHERINE HEIGL ENJOYS A BEWITCHING HALLOWEEN WITH JOSH KELLEY & NALEIGH
Article continues below advertisement
One of the reasons Katherine credits to her marriage staying strong after four years is her lack of interest in other men!
"I have no desire to physically hook up with any man other than my husband and have been a serial monogamist from the moment of my first serious relationship at 20," Katherine reveals in her new blog. "I have never been able to connect with a man sexually without it becoming emotional, without giving a piece of my heart and soul to that connection. I always loved the idea of Samantha on Sex and the City, but it just isn't how I'm built."
But Katherine isn't saying she doesn't understand why others feel tempted.
"I understand that every human being on earth wonders if the grass might be greener in other pastures, but I could never imagine myself really going there or really wanting to. I guess the relationship I'm in is so consuming that the idea of a dalliance with another man sounds exhausting. It's hard enough to make one connection work — I can't imagine, even for four days, splitting myself between two!"
Article continues below advertisement
Maybe Katherine's desire is lessened by the fact that she gets to kiss hot co-stars?
OK! VIDEO: KATHERINE HEIGL BRINGS DAUGHTER NALEIGH ON JIMMY KIMMEL LIVE!
The moral of Katherine's very personal story was to not take your partner for granted.
"It would be preachy and naïve of me to tell you I have the answers to those questions. Josh and I have only been married four years and though that may seem record-breaking in Hollywood, we're still considered newlyweds to the rest of the world," she explained. "What I can tell you is that I was infatuated with this man the moment I met him."
What do you think of Katherine's new blog?