NEWS
Katherine Heigl Loves Being Full-Time Mom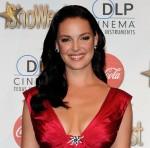 Despite being a bit sad to have left her stint on Grey's Anatomy, Katherine Heigl is thrilled to be able to spend more time with her adopted daughter Nancy Leigh, nicknamed Naleigh.
"It was a really hard choice to make and you never quite know, 'Was it the right choice or the wrong choice?'" Katherine spoke to Entertainment Tonight's Samantha Harris of leaving the show.
"But the only thing that gives me solace is knowing that if I hadn't left, I wouldn't have had these months with Naleigh that have just sort of solidified our relationship," the new mom gushed of having more quality time with her baby.
Article continues below advertisement
KATHERINE HEIGL TALKS DAUGHTER'S HEART SURGERY
Katherine tells ET that making a choice to leave TV was something that needed to happen for her family.
"I needed that to happen. I really needed her to get that I'm her mom. And I needed to show her that, I couldn't just tell her," Katherine explained of why she left the show, "It's been really amazing to have that time with her, for sure, and to be just Mom, and be involved and be in charge."
With more time at home, Katherine gushed about milestones with her beautiful daughter and fun times with husband Josh Kelley.
KATHERINE, JOSH, AND LITTLE NALEIGH LUNCH IN CALI
"She's just getting more and more fun every day, like the walking, the talking and mimicking. She's super-goofy and has a great sense of humor which is just awesome for us, because we love to laugh."
But, although she may have said farewell to network television, Katherine admits that she sometimes misses her job.
BLONDE KATHERINE HEIGL BRING HER BABY TO WORK
"And so now it's hard to go back to work, but there is a big part of me that's anxious to go back to work."
The 31-year-old's newest movie Killers, also starring Ashton Kutcher, is set to be released on June 4.