NEWS
Katherine Heigl Talks Daughter's Heart Surgery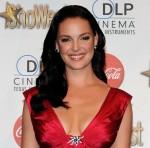 After her much-discussed departure from Grey's Anatomy, Katherine Heigl has been spending time with her adopted daughter, Naleigh, who she reveals has undergone heart surgery.
Although Naleigh, whom Katherine adopted with her husband, Josh Kelley, in September when she was 9 months old, has been described as having special needs, she was born with a congenital heart problem.
Article continues below advertisement
But after undergoing open heart surgery before she left Korea, Katherine tells Harpers Bazaar magazine: "Her heart is 100 percent fine now. She has a scar, so she won't be wearing bikinis, which is fine by us."
She explains why she and Josh decided to adopt a child considered special needs. "A lot of children don't find forever homes because they're on that special-needs list, even if it's because of something as simple as her mother smoked cigarettes for a month, not knowing she was pregnant. That's not so huge that you couldn't handle it."
OK! NEWS: KATHERINE HEIGL IS MADE IN HER STYLISH SHADES
When Naleigh arrived, Katherine, 31, was working on Life as We Know It, about a woman who unexpectedly takes custody of a baby.
"It was crazy, because as my character was learning how to take care of a 1-year-old, I was too," she says. "But as I was working with these gorgeous little triplets who play my child, I was feeling bad that I was spending more time with them than with my own kid. And that broke my heart."
OK! NEWS: KATHERINE HEIGL, JOSH AND LITTLE NALEIGH LUNCH IN CALI
She also credits her own mom with teaching her about motherhood: "The relationship I have with my mother is rare, and I know for some people it looks like I'm a real mama's girl," she says. "I never cut the apron strings, but that's one thing I will never deny. It has saved me."