NEWS
Katherine Heigl Stars in Anti-Balls PSA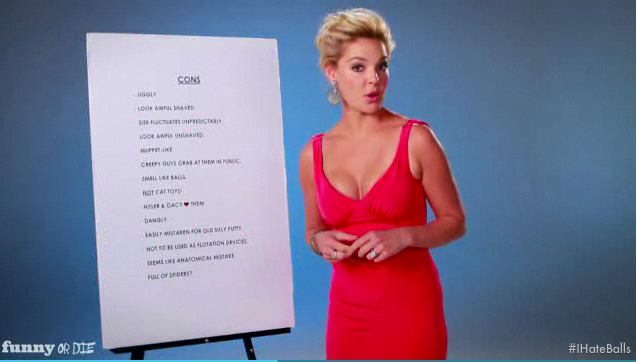 Article continues below advertisement
"Unfortunately, I can't cut the nuts off human men...yet," Katherine explains while strolling in front of cartoon anti-ball posters. "So I've dedicated my time to the neuturing of dogs cause that's legal!"
While the video is clearly a joke, Katherine's messasge is very serious.
The website mentioned in the video, IHateBalls.com is a real website for the Jason Debus Heigl Foundation's campaign to stop the killing of animals in shelters and promote the spaying/neuturing of pets.
WATCH OFFICIAL 'NEW YEAR'S EVE' TRAILER STARRING ASHTON KUTCHER, JESSICA BIEL & MORE!
"Nancy and Katherine Heigl, founders of the Jason Debus Heigl Foundation," the site's About page explains, "developed the I Hate Balls campaign to reach into all pet-friendly hearts and homes with one surgically direct mission — fight the good fight against balls!"
The site also features a "Chop Shop" where people can show their support by purcashing any of the "I Hate Balls" merchandise, which includes t-shirts, baby onesies, dog clothing and even underwear — something you might need to explain to your boyfriend before he gets scared off!
So if you, too, hate balls or just love animals, check out the website. But if you just love a good laugh, check out the video by clicking here!