NEWS
Kathy Bates to Play Susan Boyle in Biopic?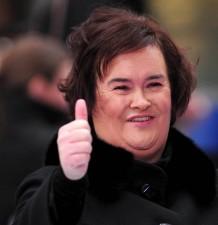 With rumors that Simon Cowell is producing a movie version of her life, Susan Boyle's family have decided who they'd like to play the eccentric Scottish singer — Kathy Bates.
"There have been scripts made from a lot less than Susan's story which by any standards is remarkable," SuBo's brother, Gerry Boyle, told RadarOnline.com.
"I would not be surprised in the least if there was a film made of her life and I would personally like to see Kathy Bates play my sister. Other British actresses like Brenda Blethyn would also be great and I just hope they get Brad Pitt to play me!"
Article continues below advertisement
The reality TV sensation — who catapulted to fame on Britain's Got Talent — is currently riding high with her record-breaking debut album, I Dreamed A Dream, which is the biggest advance CD seller in history.
The album, which includes songs like a heartfelt cover of the Rolling Stones' "Wild Horses", sold 134,000 copies in the UK on its first day of release on Monday, Nov. 23.
How will the 48-year-old celebrate the holidays now that she's a household name? "Susan is planning to be with her family over Christmas and New Year and it will be great to have her home with us over the holidays," says Gerry.
"If an unknown woman from a small town in Scotland can go on to become the biggest selling artist in America then anything is possible. We are all very proud of Susan and her dream really has come true with these fantastic CD sales."
Susan, who makes no secret of her crush on Britain's Got Talent judge Piers "Piersy Baby" Morgan, gave a note-perfect performance on Monday's Today show surrounded by her die-hard fans.
Article continues below advertisement
But Susan's fame has come at a cost: In May she checked in to London's rehab center, The Priory, and on Monday she appeared overwhelmed. The singer sucked her thumb and then bowed her head and sobbed, before pulling herself together.
However, her family have no fears for her emotional state this go-around. "I've seen a tremendous change in my sister over the last year and she really has a strong team of people surrounding her now," Gerry says.
"I think that the sales of her CD will also be strong in other markets around the world because Susan's story is so unique and it gives a lot of people hope."