NEWS
Kathy Ireland & Mya Talk About Dancing Through the Pain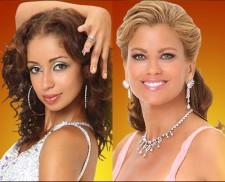 The Dancing With the Stars curse has already given the evil eye to two of this season's female contestants, Mya and Kathy Ireland, before they've even made their debut on the show. With only hours to go before hitting the dance floor for the first time this season, the two celeb hopefuls talked to OK! about how their working through their injuries.
"I really didn't realize how deconditioned I'd become," 46-year-old former supermodel Kathy — who didn't injure herself while rehearsing, but while surfing with her son — told OK!. "Dancing is an Olympic sport and it takes such focus and concentration and physically, it's so demanding. I've got so much respect for Tony and all the professionals. It's truly difficult."
Article continues below advertisement
So how is her leg doing now?
"It's okay. I get my stitches out on Wednesday," she says. "I don't feel the other aches and pains anymore, so that's really great... I just feel the fact that I'm here is a miracle and I'm really grateful. It's going to be really fun."
Meanwhile, Mya, who cut her hand on some broken glass during rehearsals, says it was all "just a dumb accident. I'm kind of a klutz. I'm always doing something to myself, but I did have to get stitches, it was pretty deep."
Her strategy for dealing with the gash: "I'm going to push through the pain," she tells OK!. "It didn't hurt when it occurred, but I just saw blood everywhere... I'll take some Advil before I go on."
Kathy sums it up best: "I think women endure pain well. Childbirth is part of that."
Reporting By Carole Glines