NEWS
Kathy Wakile's Been Texting "Back & Forth" With Teresa Giudice Amidst Cheating Reports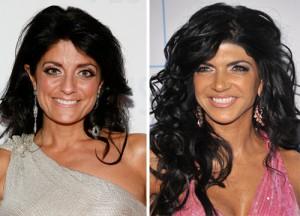 The Real Housewives of New Jersey's Teresa Giudice's rocky marriage to husband Joe Giudice has been a cautionary tale for her cast mates. So what's a girl to do? Keep things romantic!
OK! NEWS: REAL HOUSEWIVES OF NEW JERSEY CLIP — MELISSA GORGA GOES 'ON DISPLAY'
"I think when they put you before themselves that's the most romantic thing you can do," Kathy Wakile told OK! of her nearly 20-year marriage to husband Richard Wakile at Wetpaint Entertainment's one-year anniversary bash at Espace in NYC on Wednesday. "It's little tiny things, like giving me that extra hour of sleep, or being really observant if I'm in a bad mood, or just holding the car door open, and worrying about if I've had anything to eat today!"
Article continues below advertisement
When asked about Radar Online's exclusive report that Kathy's fellow housewives cast member Teresa's husband Joe was recently spotted dining with another woman at a T.G.I. Fridays in New Jersey, Kathy played coy.
"I don't like getting caught up in all that stuff," she said.
"I've been texting Teresa back and forth. It was her daughter's birthday." Kathy explained of communicating with her cousin, "She shares the same birthday as I do, her second daughter (Gabriella). So I sent a text to her."
OK! NEWS: 'REAL HOUSEWIVES OF NEW JERSEY' CLIP — GIA SINGS A SAD SONG FOR TERESA GIUDICE AND JOE GORGA
Kathy won't be able to avoid the drama for long. A Bravo spokesperson confirmed, "All five cast members will be featured on season four."
What can we expect from the Garden State divas?
"You'll see more of my family and you'll see a lot more of my sister Rosie," she says. "I think it'll be very interesting to see things play out and how our relationships change and develop. It's going to be a great season!"