NEWS
Katie Couric Makes It Official: She's Leaving 'CBS Evening News'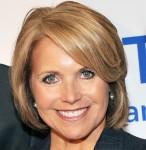 Although it was widely speculated that Katie Couric was going to make her big announcement after the royal wedding, turns out she beat everyone to the punch! The anchor of CBS Evening News has officially announced she'll leave the program to pursue other projects.
OK! VIDEO: KATIE COURIC TELLS MATT LAUER SHE WANTS "MORE WIGGLE ROOM" TO SHOW HER PERSONALITY
According to the Hollywood Reporter, the news is official: The first female evening anchor in our country is moving on. Despite rumors that she'll host a daytime talk show with her former colleague and co-host of Today, Matt Lauer, we can't forget her accomplishments on the program she's now departing! She may be most known for her premiere in 2006 with its 13.6 million viewers — the highest for the program in more than eight years.
Article continues below advertisement
OK! NEWS: MATT LAUER ALSO PLANNING TO LEAVE TODAY SHOW LIKE MEREDITH VIEIRA?
Let's not forget the hard hitting interview with Sarah Palin in 2008 when she asked the vice presidential nominee why Alaska's proximity to Russia gives her foreign policy experience, as well as what newspapers and magazines she reads regularly.
Who do you think will be her successor? Various names have been tossed around such as Harry Smith, Russ Mitchell and even Today's Meredith Vieira and Ann Curry!