NEWS
Katie Couric Says Donald Trump Acted like a Jacka** On His Pseudo Presidential Run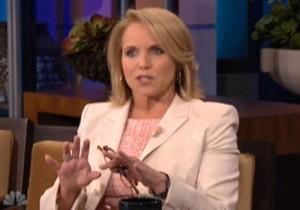 Katie Couric has interviewed some big time politicians, so her opinions would be regarded by many as valid. The former CBS Evening News anchor, who has just announced her new gig as talk show host of her own ABC show, stopped by The Tonight Show With Jay Leno and opened up on two political pundits in the news right now — Sarah Palin and Donald Trump.
Katie told Jay Leno that the media covers Sarah too much, but she understands why — both her supporters and detractors find her "fascinating."
Article continues below advertisement
"She makes good copy and so they cover her incessantly and maybe more than they actually should," Katie said.
She also commented on Donald's recent, bizarre turn in politics, explaining that she found his behavior bizarre.
"He actually can be a very, very nice person with a good heart," Katie said. "But I think he was just acting like a jacka** for a while."
ABC announced yesterday that Katie would be getting her own talk show, set to air in September, 2012.
"I'm very happy to be returning to the network where I began my career as a desk assistant in 1979. It is tremendously exciting to have the creative freedom to develop my own show with Anne Sweeney, the Disney/ABC TV Group and Jeff Zucker, and to contribute to such a vibrant, innovative news division," she said in a statement to the press. "I can't wait to be part of this incredibly talented, visionary team."