NEWS
Katie Holmes, More Hit Hermès Opening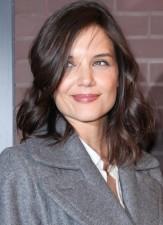 Katie Holmes strides into the Hermès Men's Store opening held Tuesday in NYC to join a fashion-forward crowd that includes Martha Stewart, Kyra Sedgwick, Kevin Bacon, plus Mad Men's John Slattery and Talia Balsam, who is George Clooney's ex-wife.
Suri's mom smartly dismisses the red carpet rule of most celebrities – who routinely work the red carpet outside in frigid temps wearing barely-there frocks – by donning a warm winter coat designed by Hermès. This Ohio native won't freeze in the name of fashion!
Article continues below advertisement
She does show off skin, however, by hooving her feet with peep-toe shoes that put her burgundy pedicure on display.
HOT GALLERY: KATIE HOLMES HEARTS HERMÈS
"She seems like she is really happy to be here," an onlooker says. "She loves everything inside."
Meanwhile, Kevin and Kyra admit Valentine's Day is a Hallmark holiday that doesn't rate in their home.
"We're not big on Valentine's Day," The Closer star, who is mom to Travis, 20, and Sosie, 17, says.
"Every year it comes around and people get so bummed out because it's not a day that we really celebrate because we like to stay in love all year," Kevin says. "I wish I knew what the secret was. We like each other's company."
Here are Mad Men husband-and-wife duo John and Talia, who also consider Valentine's Day just another day.
How do they influence each other's style?
Article continues below advertisement
"We basically say 'don't wear that,' 'how does this look?,'" John, who is sporting a beard, tells me. "We try to get each other's backs."
Talia adds, "John has very good taste, so he influences me a lot."
What does she think of his facial hair?
"I like it," she tells me. "I wish I was a man. I wish I could do that, and shave things off and put things on. It changes your look a lot."
Now friendly Martha makes her exit. She looks amazing for 68! Wow.