NEWS
Katie Lee Joel Adds Intrigue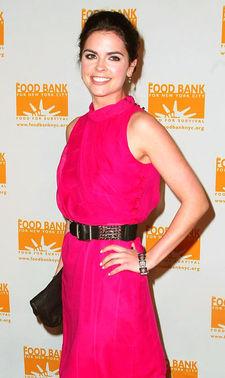 Even with Bono, Bill Clinton, Jon Bon Jovi, Mariska Hargitay, Jimmy Fallon and Rachael Ray attending the Food Bank for New York City's Can-Do Awards Dinner held Tuesday at Abigail Kirsch's Pier Sixty at Chelsea Piers, Katie Lee Joel is the biggest get of the night amid rumors of her affair with designer Yigal Azrouel.
The usually chatty chef married to Billy Joel is rushed through the press area for the first time in her life.
Article continues below advertisement
"Sorry, we have to pull her," the rep says as Katie dodges reporters.
It's a much different scenario than my experience last month when Katie was promoting ScottsMiracle-Gro GroGood campaign. She shared a pointed life lesson with me.
"Just do unto others as they'll do unto you," Katie told me March 18. "Treat people the way that you want to be treated."
Time changes everything, and at tonight's Food Bank Can-Do Awards Mariska Hargitay is rejoicing after suffering a collapsed lung earlier this year. How is she feeling?
"Much better," Mariska says.
Jon Bon Jovi is bashful about being honored tonight.
"It's humbling," the brown eyeliner-wearing rocker says. "It was difficult for me to accept it, simply because when you're doing something out of the goodness of your heart for as many years as this whole foundation has been building houses, we really don't look for the accolades."
What does he have to say about the dead dolphin found outside his home?
Article continues below advertisement
"He was trying to cross the hill to get to the house," he jokes. "He thought he was a Miami Dolphin, you know?"
Being in the presence of this New Jersey icon makes Rachael Ray weak in the knees.
"I sang every song into a hairbrush, and isn't that the appropriate way to celebrate Bon Jovi?" the food host yuks.
How does the Dunkin Donuts pitchwoman – who didn't get her free iced coffee that day -- encourage others to eat healthy?
"It's very easy to eat very well, and it's getting more affordable, thank God," Rachael says in her raspy voice. "If you like to eat healthy, buy locally grown, go to Farmer's Markets – it's the last bargain left in food -- and if you want to feel better about eating pasta, my favorite food group, switch over to whole grain. It's full of fiber and protein."
Jimmy Fallon confesses his love for Fig Newtons and vanilla ice cream. "Yeah!" his jovial wife Nancy Juvonen says. "By the way, the other thing that's fantastic is grape nuts and vanilla ice cream. I'm not kidding. You'll flip out."
Article continues below advertisement
We spot Alan Wyse, Kim Cattrall's boyfriend, who dishes on his SATC love, and Gwyneth Paltrow's BFF Mario Batali, who is wearing orange crocs.
Here is Helena Christensen, who broke her front tooth Monday. Ouch! Who is the cutest baby in Hollywood? "The cutest baby is not in Hollywood," she says in her Dutch accent. "The cutest baby's in my girlfriend's belly over there." Aww!
While Emeril Lagasse doesn't watch American Idol, he does have a reality show in mind.
"My reality show is basically you get a bunch of celebrities, and you all get on a scale and you weigh them. Whoever weighs the most at the end of the show, at the end of the series, they win. Wouldn't that be a cool series? Just eat galore."
Psst. The very-married chef is crushing on Britain's Got Talent dynamo Susan Boyle. Ooh!
"She seems like a pretty cool lady," he tells me.