NEWS
Katy Perry Covers 'Teen Vogue' & Confesses: "I'm Tired of Being Famous"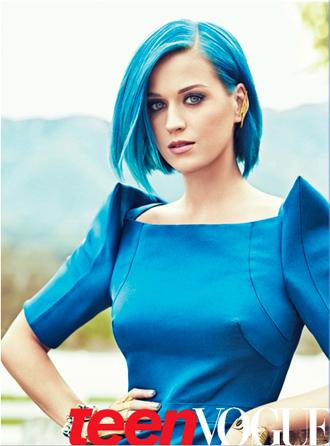 Although a lot of people dream of being a celebrity, Katy Perry insists it gets old pretty fast. In fact, she confesses in the May issue of Teen Vogue that fame is the worst part about her job!
"I'm tired of being famous already! But I'm not tired of creating," Katy tells Teen Vogue. "Fame is, I think, just a disgusting by-product of what I do. It's quite a delicate creature— it's a wild animal of sorts. It can love you, and then it can attack you."
Article continues below advertisement
OK! GALLERY: KATY PERRY IS BLACK AND BLUE WHILE OUT ON THE TOWN IN LONDON
Katy says she just wants her fans to be able to see her as a normal person, something that appears to be an impossible task.
"I still want to be as approachable and relatable as possible — when I meet fans and they're crying, I'll say, 'Calm down, there's nothing to cry about. I'm not going to bite you or attack you or grant you three wishes. Let's just hang out and have a good time,'" she explains. "But really, I stopped focusing on what other people think a while ago. If you try to be everything to everyone, you'll only end up completely confused."
One thing Katy isn't confused about is the support she gets from her friends and family, who help keep her grounded when things get overwhelming.
"I'm sure my sister and my brother and my best friends will kick my butt if I became jaded," Katy admits. "My friends are so awesome and hilarious. They're the same friends I've had since I first moved to L.A., and they can make anything fun. We could literally be in a padded room with no furniture and we'd be able to have a dance party, play games, and just have the best conversation ever."
OK! VIDEO: NEW KATY PERRY: PART OF ME TRAILER REVEALED & JULY RELEASE DATE ANNOUNCED!
To stay true to herself and who she is, Katy is releasing a documentary this summer, Katy Perry: A Part of Me in 3-D, which she thinks will help people see what she really went through to make her way to the top.
"I wanted to capture a snapshot of who I am now so that I can remind myself what I've lost if I ever do become totally jaded," she says, laughing. "And of course, I wanted people to be able to experience the tour and all the joy it brought."