NEWS
Keeping It Real: Paris & Nicky Party for Arcade; Rick Fox & Stacy Keibler Dish on 'DWTS'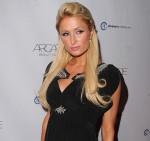 Follow The Apprentice alum Jenn Hoffman, reality star turned-reality reporter on her adventures in Hollywood. She'll dish on all the gossip, rumors, events, sightings and other craziness in the reality TV world. Forget the A-list — this is all about the R(eality)- list!
Just hours before Paris Hilton and her beau nearly mowed down a paparazzi member, Paris was sitting poolside smoking cigarettes and sipping on drinks with her sister Nicky at The London Hotel for ARCADE Boutique's first annual Autumn Party.
Article continues below advertisement
Also spotted at the ARCADE soiree was current Dancing With the Stars contender Rick Fox and former DWTS beauty Stacy Keibler. I caught up with both celebs and they discussed on how to keep your relationship in tact while enduring a demanding schedule.
OK! NEWS: PARIS HILTON GETS HER OWN DOCUMENTARY SERIES
According to Rick, girlfriend Eliza Dushku is on "massage duty" and her incredible nightly rub-downs are his main motivation for staying on the show. Stacy told me it was the incredible support of boyfriend Geoff Stults that helped keep her going.
Stacy also had some advice (and a huge ego-check) for Michael Bolton. When I asked her about his dissatisfaction with his DWTS experience she said:
"I just think he (Michael) is pretty lucky to be on this show in this day and age because so many people want to be on it. He got a great experience even though it was short lived. I would just look at the positive of an amazing experience he got."
Article continues below advertisement
Stacy also told me she thinks the judges only offer advice as constructive criticism and she never thought Bruno was particularly harsh with her. Easy to say for the girl who Bruno once called "The Weapon of Mass Seduction." Perhaps Bolton didn't spend enough time flirting with the judges… or the audience.
The ARCADE soiree was an A-list event enjoyed by movie stars, fashionistas and Hollywood's elite. Lucky for me it also included members of television's cherished R-list – The Reality List that is.