NEWS
Keith Olbermann Back on the Air in June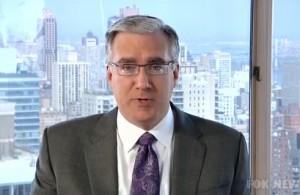 Friends of Keith Olbermann (also known as FOKs, a wink to Keith's rival FOX News) will be happy to know that his new show on Current TV won't be far from the show Keith's fans grew to love nightly on MSNBC (a fallout with the network led to his departure in January).
OK! NEWS: GLENN BECK RESPONDS TO KEITH OLBERMANN MSNBC EXIT
Current TV announced today that Keith is keeping his MSNBC show title, Countdown With Keith Olbermann, and will premiere the hour-long weeknight commentary show on June 20 at 8 p.m. ET.
Article continues below advertisement
While the move might not make his former MSNBC bosses thrilled, Keith explained his reason in an announcement video saying: "Hey, if it ain't broke, don't fix it."
Touché.
OK! NEWS: ALEC BALDWIN TO REPLACE KEITH OLBERMANN ON MSNBC?
Keith also teased viewers, saying on Twitter: "Countdown will have a huge online footprint and the details will be announced in the next few weeks."
Keith's move to Current TV (which was co-founded by Al Gore and claims to be America's only independent news and information TV network) is in hopes to lift the network into the limelight. It also makes it unlikely for another major fallout to happen. After all, Keith's in charge! The deal gave Keith a stake in Current TV, he was appointed as Current's Chief News Officer and he'll be executive producing his show.
"Even though they told me I'd be in charge and they gave me a title and an equity stake – and a pony," Keith said in the video (via Politico), "I am still delightfully startled at the freehand I've been given to assemble the finest staff, on-air and off, in television news."
It's good to be the boss!