NEWS
Keith Urban Credits Nicole Kidman for Ending His Cocaine Addiction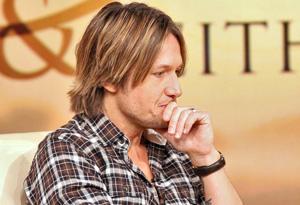 For the first time, Keith Urban spoke out on his past struggle with a cocaine and alcohol addiction on The Oprah Winfrey Show on Monday and said he credits his wife Nicole Kidman's love for saving him from it.
OK! GALLERY: NICOLE, KEITH & THEIR GORGEOUS GAL GET A MOVE ON IN NYC
Shortly after Keith and Nicole married in 2006, the actress staged a small intervention with some family and friends for Keith.
Article continues below advertisement
The country star admitted he was addicted to "everything" including alcohol, but mostly cocaine.
"You can't get clean for somebody," Keith told Oprah Winfrey. "I couldn't do this just for her, but to see love in action, to that degree, in that time, in that way, I'd never experienced anything like that."
Since entering rehab in October, Keith has stayed clean. He had been through rehab before, but this time he "surrendered" the outcome.
"There was a huge hole in my life that was going to be filled by the right thing eventually or it was always going to be filled by the wrong thing," he said. "Ultimately for me, the right thing is love. … Nic has taught me so much and brought so much to my life and opened my eyes in so many ways."
OK! GALLERY: KEITH URBAN IS A LOVER & A FIGHTER AT CMA AFTER PARTY
Keith met Nicole at an awards dinner in L.A. in 2005.
"I don't know where this question came from but I said, 'How's your heart?'" he recalled. "She said 'It's open.' It was not only beautiful because it said so much about her, but it instantly made me ask myself, 'Is mine?'"
OK! GALLERY: BMI COUNTRY MUSIC AWARDS BRING OUT NASHVILLE'S BRIGHTEST
For his new album, Keith dedicated it to Nicole and thanked her for saving him.
Inside the cover he wrote her a letter that reads, "Nicole Mary—I continue to be brought to my knees by this love of ours... I am in awe of how this blessed family we are creating stretches and fearlessly opens my vulnerable heart...and I just want to be a better man, for you, and father for our heavenly Sunday Rose and have you go to sleep every night knowing that no one has ever, or will ever, love you as much as I do...and all we need is faith."