NEWS
Kellan Lutz Bowls with the Best; Talks Latest Inventions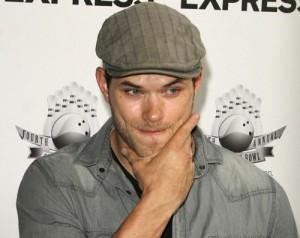 Kellan Lutz attended pro-footballer Matt Leinart's 4th Annual Bowling with the Stars charity event Thursday night at Lucky Strike Bowling Alley in Hollywood! It's great to see the Twilight hunk stretch his philanthropic arm, which he was more than happy to do — especially because he's a big bowler!
"I'm a huge bowler," Kellan told reporters last night. "I'm from, like, the Midwest so that's all we have is a bowling alley and an arcade so I love to bowl!"
Article continues below advertisement
The event raised money for the Matt Leinart Foundation, which provides opportunities to underprivileged children.
When asked whether or not girlfriend AnnaLynne McCord enjoys bowling, the actor became shy and answered, "You'll have to ask her."
Looks like Kellan and AnnaLynne don't want to divulge any details on their relationship.
The Hollywood heartthrob did share, however, some inventions he has in the works — a question that has become popular for the actor since he revealed his multi-purpose omelette maker. Who knew?
"I'm working on something to stop the paparazzi from following me so it's illegal right now and I'm working with a doctor in China right now," Kellan said.
Article continues below advertisement
So what are the inventor's summer plans?
"It hasn't started yet," Kellan said of his summer season. "I thought it would after shooting Immortals in Montreal, but now I'm here and I have all of these amazing movie projects set up."
While he is beloved for his role as Emmett Cullen in The Twilight Saga films, Kellan is playing another supernatural creature in his latest film, Immortals — slated for winter 2011 — where he plays the Greek god Poseidon and co-stars with Mickey Rourke and Isabel Lucas.
In the action/drama/fantasy flick, Kellan flaunts his toned physique — and he was all about showing some skin!
"Yeah, that was really cool. Henry Cavill is the lead and he looks ripped as hell. But, like, we're all topless. We're all supposed to be, like, young Gods so they put us through some training."