NEWS
Kellan Lutz Decides Whose Abs Are Better: Robert Pattinson's or Taylor Lautner's!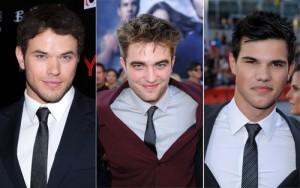 Whose abs are better? Robert Pattinson or Taylor Lautner? Twilight fans could debate that forever, but Kellan Lutz is declaring a winner!
OK! GALLERY: BREAKING NEWS — KELLAN LUTZ HAS LOTS OF MUSCLES
Once and for all, who's abs are better? The polite Kellan wouldn't choose between himself and Taylor, so he decided to declare Rob the winner!
"I think Rob Pattinson does now," Kellan told Access Hollywood. "Rob has been very diligent on his bicycle. He bikes a lot and he's been training. I'm very impressed with him and I'd say that Rob has the best abs now."
Article continues below advertisement
Better get ready to face some angry Taylor fans, Kellan!
OK! NEWS: RECENTLY SINGLE KELLAN LUTZ SAYS HE'S LOOKING FOR A "NORMAL GIRL"
And while Rob may have the better abs, it's Kristen Stewart that Kellan is looking forward battling on set.
"I'm really excited to shoot the arm wrestling scene between Bella and Emmett because I know it's one of those scenes that the fans are really looking forward to," he explained. "Even when I do conventions or hang out with the fans, they're excited and they're like, 'Is that going to be in the screenplay, in the movie?' And it is… and I can't wait to shoot it."
OK! GALLERY: A BUFF KELLAN LUTZ BOXES IN L.A.
While he's mostly excited to start filming The Twilight Saga: Breaking Dawn, there is one thing that he's dreading.
"Definitely trying to get those contacts in my eyes," Kellan said. "Those things… I have two technicians that kind of hold me down and dim the lights. I have small eyes and then my eyes are very sensitive. So, it's not something I always look forward to when I have to come in an hour early to get the contacts in."