NEWS
Kellie Pickler Doesn't Keep Tabs On Taylor, Carrie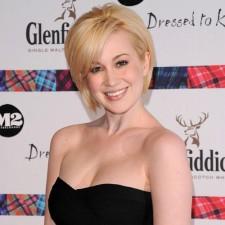 Show business has taken a toll on the friendships Kellie Pickler once shared with Taylor Swift and Carrie Underwood.
Although the American Idol finalist turned country darling, 23, once told me she and Taylor were like sisters, they're now barely acquaintances – even though the duo have been on the road touring together for a whole year.
"We both are even busier this year than last year," Kellie admits during the Dressed To Kilt fashion show to benefit Friends of Scotland held Monday in NYC. "You really see each other backstage passing to go onto the stage, and that's about it."
Article continues below advertisement
"She's like a sister to me," Kellie told me of her relationship with Taylor in 2008. "She is so amazing. She's great. I love her to pieces. Her mom's been like a mom to me out on the road. I love her, her and her family's great. I really respect her."
OK! NEWS: USO ENTERTAINER KELLIE PICKLER UPSTAGED IN PERSIAN GULF
Also that year, Taylor talked about the importance of female friends.
"I think it's really important to have a lot of girlfriends because we need to have each other's backs," the "Love Story" singer told me. "I think we definitely need to be there for each other. Instead of trying to make everything cutthroat and instead of trying to make every other girl in music your competition, why not make yourself your competition? I think beating yourself is a lot harder than beating other people's accomplishments. It's a lot more challenging and more fun. I try to compete with myself instead of other girls in music, so I can have more friends that way."
Article continues below advertisement
She added, "Some of my best friends come from reality TV, so I'm a huge fan. I wouldn't have any friends if it wasn't for reality TV."
But it's not just Taylor who is no longer on Kellie's list of BFFs.
Although Kellie called herself, Taylor and Carrie "the Three Musketeers" in 2008, adding "Us blondes, we've gotta stick together," she's not certain she'll attend Carrie's summer wedding to hockey player Mike Fisher.
"I don't know," she said. "I've only spoken to her a few times since she got engaged, but I'm very happy for her. And absolutely, if scheduling works out, I would love to be there."
RED CARPET CONFIDENTIAL: CARRIE UNDERWOOD TALKS WEDDING, DOGS & KIDS
As for her fellow Idol finalist Jennifer Hudson, who is tying the knot with her seven-month-old son's father David Otunga?
"Oh, she's getting married?" Kellie asks. "Tell her congratulations. I don't know anything that's going on in the world. I'm more into politics. I work a lot with the USO, so I focus more of my attention on what I feel is more important. I don't know about anyone's personal life, but I wish everyone success, luck and happiness."
VIDEO: JENNIFER HUDSON HEADS TO WEIGHT WATCHERS
One thing that does interest Kellie, however, is exploring her Scottish heritage.
"I found out I'm part Scottish so I'm going to Scotland next year to do research, have fun and bring out my inner Scottish roots," she says, adding "I've had the most Scotch this weekend than I've ever had in my life."
Here are my pics with Kellie, Taylor and Carrie:
Dressed To Kilt's Mad For Scotland fashion show benefits the Paralyzed Veterans of America, Erskine Hospital and Wounded Warrior Project through Sean Connery's Friends of Scotland.