NEWS
Kelly Choi's OK! Blog: Wedding Wars on Top Chef Masters!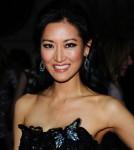 Kelly Choi, Top Chef Masters host and winner of a New York Emmy for hosting Eat Out NY, will be sharing her love of all things food with OK! every week!
After watching this week's episode, I now pronounce the dear Top Chef Masters wedding couple the luckiest bride and groom ever.Having eight world-renowned Master chefs catering your wedding banquet is a scenario that would be virtually impossible.
Wedding wars was the premise of the Elimination Challenge to kick off the Champions Rounds of TC Masters, and this was absolutely best wedding meal I know I had ever had.
Article continues below advertisement
OK! BLOG: KELLY CHOI'S THREE CULINARY TIPS FOR ENTERTAINING
Our set was a picturesque, idyllic mansion nestled in the mountains one-hour outside of greater Los Angeles. I instantly felt awed by the well-kept grounds as we walked onto the property, but it also felt comfy and inviting all at once. Such a gorgeous backdrop for what would be this couple's first day in their relationship as husband and wife.
OK! BLOG: KELLY CHOI ISN'T AFRAID TO LOVE FAT!
And the Master chefs brought it ON for the buffet.
Susur made a dessert spread varied and bountiful enough to please a small army, Jody made tasty lamb that wowed the skeptical bride, and the groom had his fill of meat and potatoes, his all-time favorites.
Now, even though us critics had our distinct opinions – both good and bad — about all of the dishes, I learned that there are three very specific dishes that, when included on any buffet spread, pretty much makes every single dining guest giddy with joy and salivate with anticipation.
Article continues below advertisement
OK!'S SEXY SINGLES SIZZLE IN NYC
Next time you do a buffet-style meal where you have to please dozens of eaters, be sure to have these foods in your presentation, and I guarantee that you will score a grand slam with your guests.
1. Filet mignon
It's a typical meat entree that everyone thinks is such an elegant and delicious cut. Funny thing is, most chefs and people who like to cook think of filet as flavorless and write it off because it's so lean. Marbling and fat is what makes a steak juicy and tantalizing, but a filet is all deep red flesh. It's one of those foods, though, that whenever anyone hears it's being served, their mouths perk up in anticipation (provided that of course, you're not a vegetarian).
2. Potatoes au gratin
Creamy, layered disks of potatoes smothered in a rich white cheesy sauce topped with crispy bread crumbs or fried shallots. Unctuous but crunchy, warm and hearty, need I say more?
3. Lobster
There's something about lobster that reeks of celebration and decadence. It's a pricey ingredient, for sure, and that's part of the attraction. During our Elimination meal, chef Marcus Samuelsson made bite-sized lobster rolls as an hors d'oeuvre, and it won us all over with its sweet, succulent texture and pure of-the-sea taste. Whether it's a lobster roll, simple steamed lobster with clarified butter, or lobster in a pasta, it's one dish that seduces the taste buds into culinary ecstasy.
Remember these three dishes and when you want your dinner to be talked about for a long time after it's over. Trust me, I'm confident that each one of these foods will excite and fulfill your guest's every desire.
This was one wedding where people looked more forward to the nibbles than the open bar!
Kelly
Remember to Tweet me!
Tune in to Top Chef Masters on Bravo every Wednesday at 10 p.m ET/PT.