NEWS
Kelly Killoren Bensimon Threatens to Quit Facebook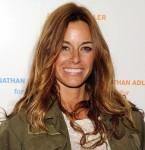 While some celebrities are deleting their Facebook accounts over privacy issues with the site itself, Real Housewives of New York City's Kelly Killoren Bensimon threatened to scrap her profile for an entirely different reason — haters!
"I will be deleting this page by the end of the week," Kelly wrote on her personal account last night, apparently in response to negative comments. "So for those who wish to stay a fan please go to my fanpage. And for those who choose not to...all the best. Please don't follow me on Twitter and Facebook, it's not good for you to waste time, with people you dislike...and end up getting blockedor deleted from my web team."
Article continues below advertisement
OK! RED CARPET CONFIDENTIAL: STARS GO GAGA FOR GREEN
But either her fans convinced her to stay, or Kelly just had a change of heart, announcing early this morning that she would keep the account.
She wrote: "We will NOT be deleting this account, but will be adding a new page in addition to the fan page. write what you want, and say what you feel. I am flattered by lovers and haters, but indifference makes me sad. enjoy the day."