NEWS
Kelly Ripa Reveals Regis Philbin Has a "Man Crush on Prince Harry"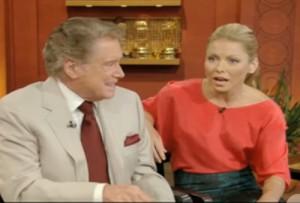 Forget Pippa Middleton. Regis Philbin is crushing on a real member of the royal family — Prince Harry!
Today on Live With Regis and Kelly, the co-host asked British actress Keira Knightley if she has ever met Prince Harry.
OK! VIDEO: WATCH REGIS PHILBIN MAKE OSAMA/OBAMA MIX-UP WHILE TALKING ABOUT VIAGRA
"I'm fascinated by Harry," Regis revealed, as Keira shared that she has never met the eligible prince.
Article continues below advertisement
"Regis has a man crush on Harry," Kelly Ripa explained to the roar of the audience.
The host shared that he was very impressed when Prince Harry sneakily glanced at Kate Middleton while she walked down the aisle during the royal wedding, as his brother Prince William stood firm with his eyes fixed on the altar.
Regis then proceeded to demonstrate the Prince's quick gaze.
"Only, Prince Harry did it in a much less creepy and frightening way," Kelly quipped.
Catch the clip, via TV Squad, below!