NEWS
Kelly Rutherford Files For Bankruptcy After Blowing Over $1.5 Million On Bitter Custody Battle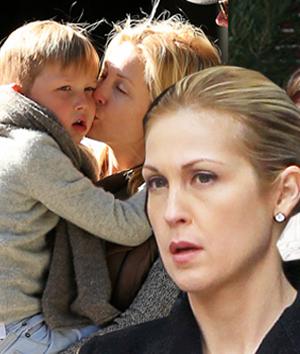 Kelly Rutherford is feeling the financial pinch thanks to her ongoing bitter custody battle with ex-husband Daniel Giersch.
The Gossip Girl star has blown through all her savings and her situation has become so dire that she has been forced to file for bankruptcy TMZ is reporting.
As OKMagazine.com previously revealed, Rutherford, 44, lost primary custody last year of son Hermes, 6, and daughter, Helena, 3, to her German-born ex, who now lives in Monaco, France, after he was forced to leave the U.S. following visa issues.
Article continues below advertisement
In an interview with E! last month, Kelly claimed she has spent "millions of dollars" in her bid to regain custody of the children, and that her money situation had become so desperate that she has been forced to move in with a friend as she can no longer afford to rent her own apartment.
OK! News: The Inside Track On How Multi Millionaire Celebs Go Broke
Kelly, who filed for divorce from Giersch in 2008, said she has paid for over 40 trips in order to see her kids since they moved to Europe with their father last May—and that the cost—combined with legal fees, had left her deep in the hole financially.
"I've spent every penny," she said. "Every penny from Gossip Girl, my pension, my stocks has been spent fighting for my children."
Rutherford also shared that it's not only been a financial nightmare since losing custody, detailing the emotional toll of being away from her young children—and the heartbreak of having to leave them behind when she flies home solo.
Article continues below advertisement
"Having to peel my son off my body, screaming 'mama save me!' when I had to give him to his father," she said. "Not because he doesn't love his dad, but because he's too young and it was, like, a forced thing."
Going on to explain that leaving the kids is akin to, "Being in a park full of happy laughing children and the next day you walk past the park and it's empty."
Rutherford's bankruptcy documents reveal she has spent a whopping $1.5 million on legal fees so far as she battles her ex in court.
In addition, Kelly owes $350,000 in income tax for 2012, and has credit card debt of $25,251—she lists her monthly income as $1,279.33.
Are you surprised by Kelly's financial situation? Sound off in comments and tweet us @OKMagazine