NEWS
Kelly Rutherford on Matthew Settle: "We're Going to Hook Up Tomorrow"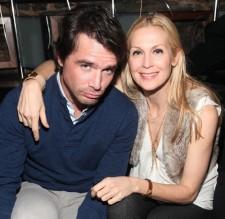 Kelly Rutherford attended the premiere of Discovery Channel's Life at Lincoln Center in NYC Thursday night, where she talked openly to reporters about her divorce, young children and her recently single co-star Matthew Settle.
OK! NEWS: KELLY RUTHERFORD DATES DIFFERENTLY AS A MOM
The set of Gossip Girl is no stranger to stars hooking up off-camera — Jessica Szohr and Ed Westwick, Blake Lively and Penn Badgley, and Leighton Meester and Sebastian Stan — so maybe there's hope for the moms and dads on the show as well!
Article continues below advertisement
"I mean they're all pretty attractive, amazing people, so I don't know why they wouldn't fall in love with each other," Kelly, who plays Lily Van der Woodsen, confessed to reporters.
OK! NEWS: KELLY RUTHERFORD'S DIVORCE GETTING UGLY
The recently single mom has a lot in common with her co-star and onscreen husband, Matthew, who is going through a divorce himself right now.
So, they're both single...
"Oh yeah, we're going to hook up tomorrow," Kelly jokes. "No, I don't know. I don't think so."
That still sounds like a possibility!
OK! NEWS: MATTHEW SETTLE TELLS OK! THAT HIS DIVORCE IS "A TRAGEDY"
But since Matthew announced his divorce, Kelly has been a friend to him and supported him through it.
"We kind of just support each other," she explained. "He's going through his own thing, I'm going through my own thing, we both have small children that we really love, so we talk about them most of the time. We share pictures and videos."
Article continues below advertisement
So will they be arranging any playdates for their kids?
"We should… I mean, we have," she corrected herself. "In the Hamptons, we tried to for the summer."
OK! NEWS: KELLY RUTHERFORD: I'M A SINGLE MOM WHO NEEDS TO WORK
They don't really share tips, but they do share stories!
"Matthew was saying his daughter just took her first steps the other day and its beautiful — it's fun," the actress shared.
Truthfully, Kelly doesn't have much time to date, but that doesn't mean she doesn't want to!
"You know, I really haven't had a lot of time, to be honest with you. I'm open to it," Kelly admitted. "It's just not my focus at the moment. If it happens, great, but I have the two most beautiful little ones and a great job. It's pretty all-consuming."
OK! HOT GALLERY: BLAKE & CHACE SOAK UP THE MIAMI SIGHTS
But Kelly's Gossip Girl crush isn't necessarily Matthew — she's admitted to liking Chace Crawford!
Article continues below advertisement
"Who wouldn't have a crush on Chace?" Kelly asked. "But he's like a younger-brother crush, not like a real crush."
"They call me a cougar right? You know what it is? All of them remind me of my younger brother in that kind of way, not in a romantic way," she explained. "In a kind of playful, 'you're cute, you're 20' way. Not like, 'I want to be with you.' "
OK! NEWS: MATTHEW SETTLE BABIES GOSSIP GIRL CAST, BUT PETS TAKE WORK
So what is her type?
"I don't really have a type," she said. "At this point, I don't know. Someone mature, someone not 20."
So maybe someone like... Matthew?
Reporting By Laura Lane