NEWS
Kelsey Grammer on Wedding Date With Kayte Walsh: "Sometime in February"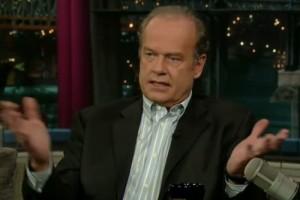 Looks like Kelsey Grammer may be getting that speedy divorce decree after all. The actor stopped by the Late Show With David Letterman Thursday night and spoke about his divorce and upcoming wedding to Kayte Walsh, keeping conversation light and Camille Grammer-free.
The comic host asked about Kelsey's messy divorce, questioning; "I'm sorry, or I'm not sorry, to hear that?"
Article continues below advertisement
"You are respectfully considerate and yet pleased for the new developments in my life," Kelsey responded coyly, before talking about how his children are handling the divorce.
"The kids seem to be doing okay. We've been spending quite a bit of time with them, Kayte and I. Kayte's my new girl. We're planning to get married soon."
The word marriage triggered Dave to inquire about a date for the wedding, and he got one!
"Sometime in February, we think," Kelsey responded.
Kelsey recently asked the judge presiding over his divorce case for a speedy divorce decree.
Camille's rebutted in a formal legal declaration, explaining Kelsey is asking for a speedy divorce "solely for the reason that he intends to remarry as soon as possible."
Camille also recently suggested in an interview that Kelsey likes to cross-dress.
Catch Kelsey's interview below. Note: There is no mention of estranged wife Camille!