NEWS
Kendra: "Baby Hank Hates Sleeping"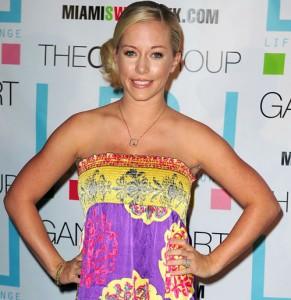 Kendra Wilkinson-Baskett is thrilled to mark baby Hank's milestones now that he's seven months old. As the days pass, he's becoming more and more like his model mom and dear ol' dad, NFL star Hank Baskett.
"He is two seconds away from crawling," Kendra, 25, whose book Sliding Into Home is out now, tells me. "Any minute now. He's looking up, doing the motions, but he falls. With the first little movement of a crawl, he falls on his face. I'm like 'aww, man.' It's one of those things where you're like 'come on, come on, come on.' laughs It's so fun."
Article continues below advertisement
OK! GALLERY: REALITY TV'S BANGIN' BODS
The couple, who celebrated their first wedding anniversary in June, can spot their individual traits in the little boy.
"The baby is so driven," the reality star says. "He's already so independent. He makes sure that he's so strong. He's such a little boy. He loves to explore already. I know you're not supposed to, but we put him in his walker and we keep all eyes on him at all time in that thing. I know pediatricians hate that, but he explores. He wants to see everything, he loves the world."
OK!'S RED CARPET CONFIDENTIAL: KENDRA STRESSES ABOUT FINDING PERFECT CAR SEAT
Still, loving the world can have its downside.
"He hates sleeping," she says. "When we lay him down, he's tired, he hates going to sleep. He fights it because he loves life so much. He's driven. He's a person that doesn't give up. He's a baby that does not give up. He wants to keep trying, keep trying, keep trying. Even if he falls, he wants to get back up and go."
Article continues below advertisement
She adds, "That's me, and that's Hank. We're people where if we make a mistake, we dust ourselves off again and go about our life. Keep trying, keep trying. That's what we see in him. He's a driven little baby. He's going to be very smart. laughs"
OK! GALLERY: STARS GO GLAM FOR THE ESPYS
Little Hank certainly gets a lot of love.
"We're having so much fun trying out different foods for him – what he likes, what he doesn't like," she says. "He loves to eat. He loves vegetables. God, he eats anything. Him and daddy – him and Hank had a little photo shoot today – because for my birthday, Hank asked me what I wanted for my birthday, and I'm like 'I want a good picture of the baby right now – today, right now, a picture of him right now in a cute outfit either with you — with Hank and the baby – or himself' because I want to start putting pictures up all over the place baby gurgles and surround ourselves with him."
For more on Kendra, pick up the OK! on newsstands now. The cover line is Kourtney Vs. Kim: "It's War Over Scott." And, pick up Kendra's memoir, Sliding Into Home, which is out now.