NEWS
Kendra Dishes On Her April Fool's Past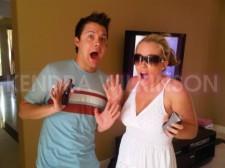 Fun-loving Kendra Wilkinson loves nothing better than a great prank — so it's no wonder she's excited that today is April Fool's Day... even if hubby Hank Baskett is the one tricking her! "Happy April Fools Day everyone!!!!!! Today is definitely one of the most fun days of the year and I always get really into it," OK!'s cover girl this week writes on her official blog.
"I've pulled my fair share of april fools jokes on people, and i've definitely had some pulled on me. The first one I can think of happened during hanks training while he was with the Eagles. My friend Eddie and I would stay home and hang out while he was gone," Kendra remembers in her blog of her pranktastic past.
Article continues below advertisement
OK!'S RED CARPET CONFIDENTIAL: KENDRA GETS PITCHY
"Anyway, on the night of april fools we were watching a scary movie and I went to the kitchen to get a snack and while I was in there I heard noises from the garage and it sounded like someone was trying to get in. I went running back into the living room screaming and told eddie and made him go look in the kitchen. So eddie is walking and im a few steps behind him and suddenly we see the basement door slowly opening and at that moment we thought we were goners — someone was in the house and was about to kill us!!!!!! I grabbed the phone, dialed 911 and was ready to press send. Suddenly hank jumps out of the basement and scares the crap out of us…we were literally both crying haha.