NEWS
Kendra: How I Lost Another 10 Pounds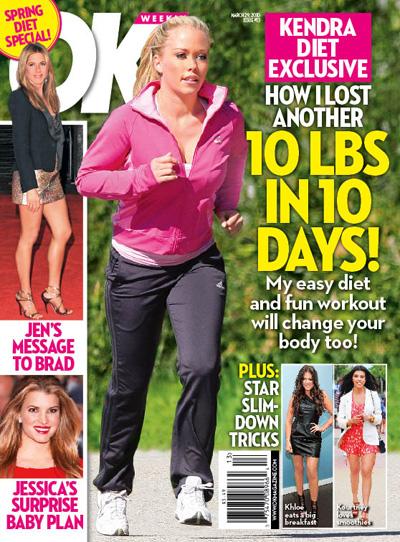 Kendra Wilkinson Baskett: In this diet exclusive, the E! reality show star describes how she lost those last 10 pounds in only 10 days. She explains her new diet regimen and how hard it was to stop her pregnancy-related eating habits. Check out her diet tips and a few sample exercises from L.A. Crunch personal trainer Monib Abhat.
The Kardashians: Khloe and Kourtney vowed to motivate each other to get their bikini bodies back in time for the return of their E! reality show Kourtney & Khloe Take Miami, and now they're in great shape. Read about their different weight-loss plans and their tips for keeping it off.
Jennifer Aniston: After Jen admitted on British TV show GMT that she thinks it's possible for exes to reunite, a friend of the actress speculated that she was referring to the only one she truly "thinks of as an ex," Brad Pitt. Also: How Jen stays so hot — check out Jen's diet and fitness secrets.
Justin and Cameron: Cameron Diaz went to bat for Justin Timberlake so he could star in her new romantic comedy, Bad Teacher — read about Jessica Biel's reaction to their steamy love scenes. Plus: a review of Cameron and Justin's romantic history.
American Idol: OK! brings you the dirt on the final 12 contestants and lists their best and worst performances.
Plus: Miley Cyrus says on a radio show that Liam Hemsworth is officially her boyfriend; Heidi Montag fires Spencer Pratt as her manager; Jessica Simpson has some surprising baby plans; Celebrity nutritionist JJ Virgin weighs in on E! personality Bridget Marquardt's diet; Ed Swiderski and Jillian Harris talk about their blissful relationship at an Oscars party; Find out new, fun ways to play with your hair color for spring, as stars like Beyoncé, Kelly Osbourne and Angelina Jolie have; Get fitness secrets from Gossip Girl stars Jessica Szohr, Leighton Meester and Blake Lively; High Society's Tinsley Mortimer models five of the season's hottest trends — plus, OK! tells you how to make the looks work for you!
Article continues below advertisement