NEWS
'Kendra' TV Recap: Inside Hank & Kendra's First Post-Baby Date Night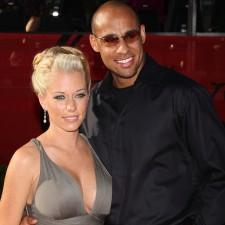 Kendra Wilkinson Baskett kicked off the second season of her show Kendra in style, going on a steamy date night with doting hubby Hank Baskett.
Before taking their rare night off, Kendra worries about getting her buff Playboy body back. "It's been a whole month and I haven't shed a pound. I just want to look sexy for you," Kendra tells Hank.
OK! NEWS: KENDRA SENDS JULIE BENZ A STRIPPER POLE
She adds: "Hank still calls me beautiful now, but Hank could tell me I look pretty 24 hours and I would still feel insecure."
Article continues below advertisement
The couple, who are looking after 6-week-old Hank Jr., realize they haven't had a night together since his birth.
OK! EXCLUSIVE: KENDRA OPENS UP ABOUT POST-BABY BLUES
"It's been a month and half," since the baby was born and "if we get alone time, we sleep and that's the alone time we get," Hank explains to a couple who come over for dinner and can relate to the situation.
But finding a babysitter for the newborn worries Kendra as she explains, "It's definitely scary because he's my little perfect angel."
OK! NEWS: KENDRA AND HANK'S BIG MOVE
In preparation for her romantic night out, Kendra wonders out loud whether she should do her "Kegel exercises," because, "I get to have sex again. I feel like I'm a little rusty. I may have some cobwebs going on down there, but I am excited."
Hank pulls out all the stops to make their date night memorable, taking his wife on a horse-drawn carriage ride. "So romantic, only a real man would think of something like that," Kendra gushes. "I love horses. This is a perfect date night, babe."
OK! EXCLUSIVE: KENDRA & HANK: ANOTHER BABY ON THE WAY
During dinner, things became a little less PG. "Do you want to bone when we get home?" Kendra jokes at the dinner table after a few glasses of white wine. "I don't have any underwear on!"
Catch Kendra next week on E! at 9 p.m.