NEWS
Kendra Wilkinson Sends Julie Benz a Signed Stripper Pole!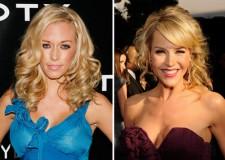 After leaving the cast of HBO's Dexter, Julie Benz has been one busy girl, joining the ladies of Wisteria Lane on Desperate Housewives and even installing a stripper pole in her L.A. home after pal Kendra Wilkinson Baskett sent one over as a gift.
"I wanted a stripper pole and I tweeted about it and then Kendra Wilkinson, who is coming out with her own line of poles, sent me one so I got lucky," Julie gushed to OK! at Spin's Ping-Pong Tournament on Thursday. "She even signed it. It's called a Sport Pole. I love it! It's such a great workout."
Article continues below advertisement
OK! NEWS: JULIE BENZ WANTS TO WORK THE STRIPPER POLE ON DESPERATE HOUSEWIVES
Equipped with a pole at home, Julie reveals that playing a stripper and a lesbian on Desperate Housewives is actually a fun and different role for her.
"When I found out that it was a lesbian role, I though that it was even better because I have never done that!"
OK! EXCLUSIVE: KENDRA REVEALS STRUGGLE WITH POST-BABY BLUES
And the 37-year-old claims that her hot, steamy scenes with Dana Delany aren't even awkward as she tells OK! at the Mondrian Hotel that it's, "a very sweet love story and it's just acting. Kissing is kissing. Anytime I have to kiss someone on screen, I try to give them the best kiss of their life."
But the best part about her new role is the excited reaction Julie has received from her boyfriend and his friends.
"He's now telling me to have fun at work and have a good day. He wants me to bring work home! All of his friends who used to care less now want to come and see me work."
We'll bet they do!